For industries reliant on highly skilled workers, apprenticeships have been an age-old way to build a well-trained workforce and help many on the pathway to a decent-paying, middle-class career. Even today, the model of apprenticeships can be applied to different, mostly essential, industries that will help to close the workforce gap for Minnesota—especially as an unprecedented number of workers retire and employers look to fill positions from an increasingly diverse labor pool.
Last year, more than 1,800 workers completed a registered apprenticeship through the Apprenticeship Minnesota program of the Minnesota Department of Labor and Industry (DLI). Since 1939, the program has coordinated with employers—ranging from construction to health care—to provide a full scope of career pathways for workers seeking an apprenticeship.
There are three main components of a registered apprenticeship program:
A work component, where apprentices are employed throughout their training
A wage schedule that ensures that as a worker advances in their training, they are compensated at a fair rate
A related instruction component that complements what apprentices will do on the job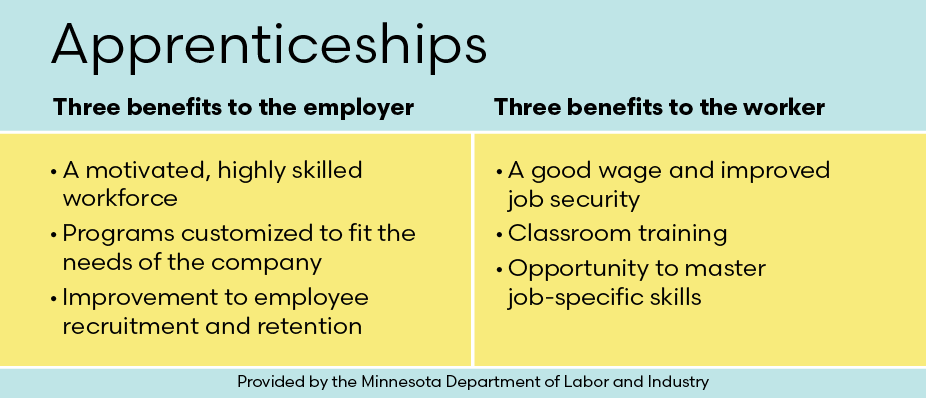 EXPANDING THE APPRENTICESHIP MODEL
Apprenticeships have typically been a critical part of the construction industry as a way of passing along industry know-how down the generational pathway. In recent years, more outreach has been done to expand this model to other industries, such as health care or IT. Through the apprenticeship model, DLI assists both employers and workers in creating safe, high-quality, long-lasting careers. "The model is there to create a great workforce," says Department of Labor Standards and Apprenticeship Director John Aiken. As the program's tagline touts, "Apprenticeship works."
COVID-19 AND THE FUTURE OF APPRENTICESHIPS
The COVID-19 pandemic has impacted all industries, threatening Minnesota's already growing workforce gap. Since September 2019, Minnesota has lost nearly 7% of all jobs. While jobs in construction—the largest makeup of apprenticeship programs—saw similar losses, the job outlook still reflects an essential industry dedicated to innovation and care. Right before the pandemic, future hiring plans in the first quarter of 2020 indicated that 92% of construction industry employers planned to either increase or keep employment constant in the next six months.
A few months into the pandemic, Minnesota's job vacancy survey reported 4,712 construction and extraction job vacancies during the second quarter of 2020. And looking ahead, the September 2020 U.S. Census Bureau's Small Business Pulse Survey noted that about 10% of small businesses planned to reduce their workforce, far less than earlier in the year. Before the pandemic hit, and even after, employers continue to seek out ways to attract, grow, and retain their workforce.
WHO'S A GOOD APPRENTICE CANDIDATE?
When we look at who could fill workforce needs in the years to come, we can look toward two groups who may be seeking out new work opportunities: recently unemployed Minnesotans and the future workforce. Unemployment insurance filings, or those who were most recently laid off, reveal a potential workforce with skills and eagerness to find another career route. The September 2020 data release still showed that the industries hit hardest by the pandemic are workers in essential industries. For example, about 18% of the leisure/hospitality industry filed for unemployment insurance in August. The transportation and utility industry saw 10% of their workforce impacted and applying for unemployment insurance. In comparison, in many apprenticeship industries – such as construction, manufacturing, and utilities – there has been a leveling off of new unemployment insurance claims in recent months.
MAKING DIVERSITY A PRIORITY
Beyond the current economic considerations, our changing demographic makeup again reveals who else will soon be a part of the workforce. In Minnesota, where 1 in 12 residents are foreign born, and where 1 in 6 kids is a child of an immigrant, the future workforce will be more ethnically and culturally diverse compared to our current workforce.
DLI's outreach work with community organizations and local partners to share apprenticeship as a path to a long-lasting, stable career ensures that people are aware of this career path. As the future workforce of Minnesota will be more diverse than ever, Aiken says he is "encouraged by the work of programs that put diversity as a priority." Whether a worker is seeking a new career opportunity or simply exploring future career paths, apprenticeships offers workers another route to that goal career.
Throughout the pandemic, Apprenticeship Minnesota has continued to promote the benefits of apprenticeships and provide support to employers in recovering and retaining their workforce. Last year, Apprenticeship Minnesota held an event for Minneapolis school counselors, sharing opportunities for students after graduation. The event—held virtually this year—seeks to get the word out about apprenticeships earlier on to students in the process of choosing a career route. And on the employer side, DLI continues to work with employers to ensure that apprenticeships run smoothly throughout this pandemic and beyond. "Ongoing support to get folks started and make them successful is what's going to make Minnesota successful," says Aiken.
National Apprenticeship Week in Minnesota runs Nov. 9-15.
Find more about Apprenticeship Minnesota here.
Apprentice photo courtesy of the Minnesota Department of Labor and Industry.