For Minnesota to be its best, we need talented leaders from all backgrounds to make our institutions work well for all.
what we have learned so far
On dimensions of race, ethnicity, and gender, our leaders look very different from Minnesota's overall population.
While 15% of Minnesota's adults are people of color, only about 5% of leaders across Minnesota are people of color. But even as our state has become increasingly racially and ethnically diverse, the share of leaders who identify as people of color has remained flat.


We would need to see at least three times as many people of color in positions of leadership in order to reach parity with the population of color among Minnesota's adults. 

Women are also underrepresented in positions of leadership in Minnesota. While 51% of Minnesota's adults are women, only 25% of leaders across Minnesota are women. Across sectors, women's representation in business leadership lags behind their representation in nonprofit and government leadership. When women do lead in the business sector, survey data show that women tend to lead smaller businesses.


We would need to see at least twice as many women in positions of leadership in order to reach parity with the population of women among Minnesota's adults. 

With much of the Baby Boomer generation in the midst of retirement, young adults need to be encouraged into leadership pathways and promoted into leadership positions to ensure smooth transitions of authority and institutions. Young adults are underrepresented in leadership positions in Minnesota. Young adults represent 24% of Minnesota's leaders, but 38% of all adults in the state.
It could be argued that this is a function of time in the labor force. That is, young adults will transition into leadership roles as their training and experience grow. But young adults are not only underrepresented in leadership roles. The share of young adults in leadership is also declining. Today, about one in four leaders in Minnesota is a Millennial, compared to one in three leaders just a few years ago.
The government sector is at a particularly critical point in needing to transition leadership to younger generations. Today, more than half of government leaders are Baby Boomers or older, while only about one in eight leaders in government is a Millennial. If pathways and promotions are not clear and open for Minnesotans in early- to mid-career, how might current trends in aging create almost immediate challenges for transitions in leadership in Minnesota, especially in the government sector?

If pathways to leadership are not clear and open for young Minnesotans, impending retirements among Baby Boomers will exacerbate existing challenges for transitions in leadership.

Hiring practices may keep qualified adults of color from leadership positions. Our survey data includes government sector respondents who were both hired into their positions and elected. Leaders of color in government are more commonly elected into their positions than White leaders in government, while leaders who are White are more commonly externally hired into their positions. Barriers inherent in the hiring process may decrease perceptions of an open diversity climate, which in turn diminish retention of diverse leaders and reduce anticipated self-efficacy among talent with promising leadership potential.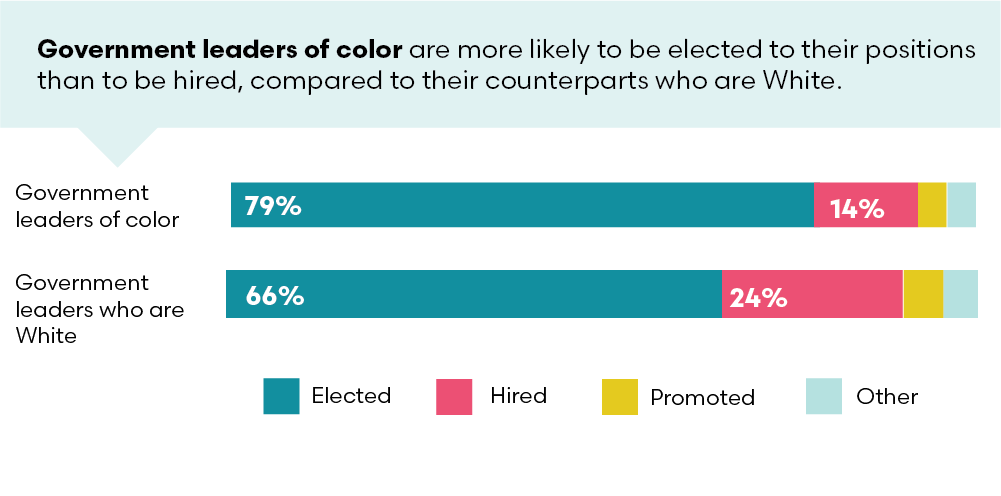 Analyzing census data
Minnesota Compass researchers analyzed data from the U.S. Census Bureau's American Community Survey to provide estimates of the number of top executives and elected leaders in Minnesota by gender, race, age, education, wage level, disability, veteran status, and more.
Leaders by demographics
  Age  Race  Gender  Nativity  Educational attainment  wage level veteran status  disability status  geographic region

Surveying local leaders to learn more
Because the national census data is incomplete in many areas, Wilder Research partnered with League of Minnesota Cities, Minnesota Chamber of Commerce, and Minnesota Council of Nonprofits to collect and analyze detailed data on the characteristics of leaders in local government, nonprofits, and businesses across the state.
Inspiration and resources to spark change
Learn how organizations and communities are championing diverse and inclusive leadership, and explore our leadership resources.
Restorative Justice Community Action 
Minnesota Compass and the Bush Foundation teamed up to provide a holistic picture of institutional leadership in our state and how our institutions are developing the talent Minnesota needs.
Demographic data on who holds leadership positions in business, government, and nonprofits in Minnesota have not been readily available or easily accessible, nor has information about what is helping foster more equitable and inclusive leadership.
MINNESOTA'S LEADERS
Fast facts
are leaders of color
People of color are underrepresented among Minnesota leaders across business, government, and nonprofit sectors.
leaders are women
While half of Minnesota's adults are women, only 24% of leaders across the state are women.
of government leaders are 65+
About 1 in 5 government leaders are older adults, compared to 1 in 10 business and nonprofit leaders.