" Without a common measure, we cannot even begin to assess our impacts. It's like trying to describe a space with all the lights turned off. The data act like a flashlight we can use…to know and understand our communities."
– Nate Dorr, Northwest Minnesota Foundation
While Minnesota's northern regions are often known for tourism and unique natural resources, they also encounter a unique slate of challenges in community development. We asked Erik Torch, Director of Grantmaking, Northland Foundation and Nate Dorr, Program Officer, Northwest Minnesota Foundation, to share their thoughts on how they use Compass and other data to make a difference in strengthening their communities.
COMPASS: What have been some surprising data points?
ERIK: I've been particularly struck at the poverty rates for children under 5. For example, in Cloquet, 1 in 4 children under 5 live in poverty. That these are consistently so high across the region and state is troublesome and raises great concerns about how we address the needs of some of our most vulnerable community members.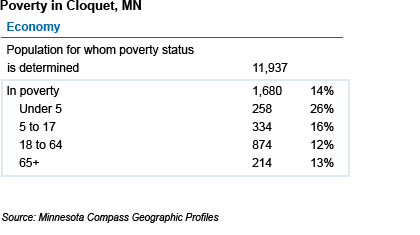 NATE: I have heard different claims for unemployment rates for the same community—but even the definition of "unemployment" changes from source to source. So what is real? Who should we trust? Compass uses share of adults working, a measure that does not mask changes as the unemployed stop and start looking for work. Once we understand which measure we are looking at, we can move on to a bigger question, What do we do about it?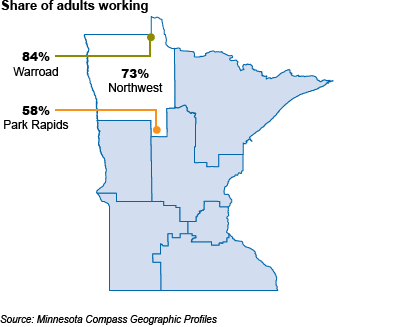 COMPASS: What data have been key to decision-making in your region?
ERIK: I find the information under economy, education, and housing to be key data points I turn to when I need to better understand what's happening in a community. For example, I can get not only the percentage of people paying more than 30 percent of their income for housing, I can see that percentage for homeowners and renters. The level of detail, even for small communities, is incredibly helpful.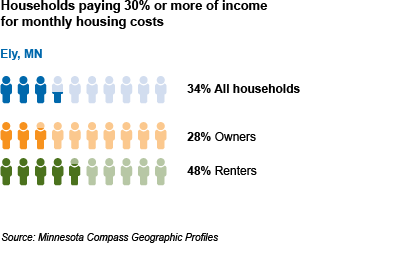 NATE: It's often about quantifying what we may already suspect. For example, we know mental illness exists in our communities, and probably even in our close circle of friends and family. We know how many people are securing mental health services across our region, which can help identify where resources may go the farthest to help people in our community remain mentally resilient.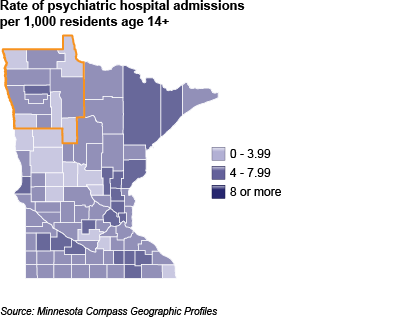 COMPASS: What is the broader impact of this resource?
ERIK: Minnesota Compass is a great resource for me as I gather information about communities in our region to better understand needs. More detailed data for more communities will aid the Northland Foundation and our partners in our work to strengthen communities.
NATE: Compass has done a tremendous job in winnowing down and prioritizing key measures from credible sources. It allows us to even compare local areas—regions, counties, and towns—to state level data for benchmarking. This helps program administrators and funders to agree on the size of the need. The grand vision is to improve those overall numbers by funding collaborative programs.
Join the conversation
Two of our advisors have weighed in – but that's just the start of the conversation. Let us know what you see in your community and how your organization is working to address the needs.
Email: info@mncompass.org
Twitter: #mygreatMN
Related Links:
Greater MN City Profiles
Neighborhood Profiles
Look up your town on Wilder's new Minnesota data (MPR)