by Ellen Wolter, former research scientist for Minnesota Compass
1. Growth in racial and ethnic diversity is happening across Minnesota.
Although the number of residents of color is not as large in greater Minnesota, both greater Minnesota and the Twin Cities metro area have seen an increase in racial and ethnic diversity. In fact, the counties in Minnesota with the largest increases in the percentage of residents of color are all outside of the Twin Cities metro area.
Since the 1970s, the share of residents of color has increased in every Minnesota region and is projected to continue growing over the next 20 years. In the last decade, central and west central's populations of color increased by half, with growth in the southwest and southern regions not far behind, at 38%. The Twin Cities, which has long had a larger population of color, and northwest regions saw the smallest increases.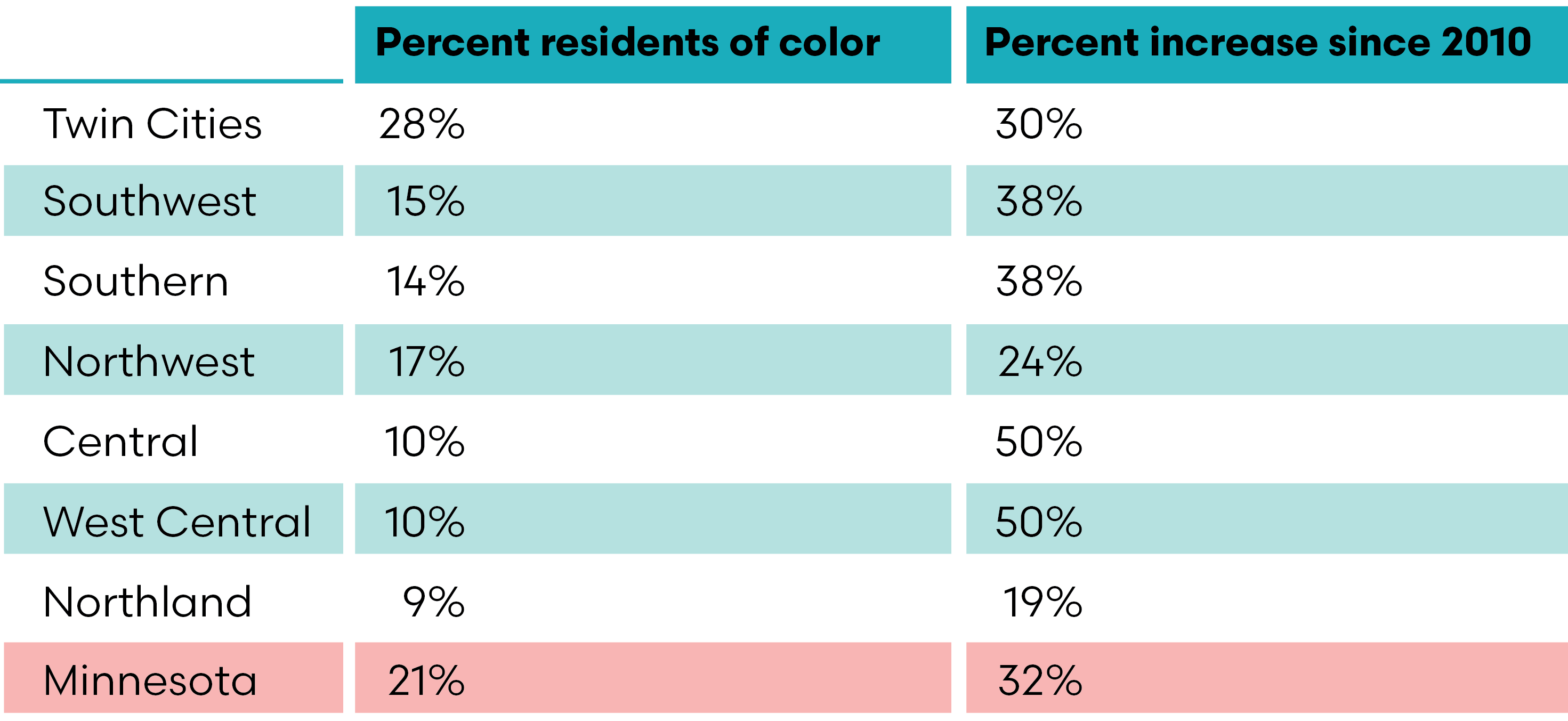 Seven of the top 10 counties with the largest percentage population persons of color are in greater Minnesota. The top-ranking counties are Mahnomen and Nobles counties. In Mahnomen County, just over half of residents identify as a person of color, due to the region's large Native American population. In Nobles County, this percentage is 42%, where one-third of residents identify as Latino. In Watonwan and Beltrami counties, nearly one-third of residents are people of color, and in Mower, Kandiyohi, and Olmsted counties, one in five residents are people of color.
2. People struggle to pay for housing across the state.
Paying for housing has grown increasingly difficult for nearly all communities across Minnesota. Despite a higher cost of living in the Twin Cities area, there is just a three-point difference in the share of households that are cost-burdened in greater Minnesota and the Twin Cities metro area. Households that are cost-burdened pay more than 30% of their income on rent or a mortgage. All regions in Minnesota have similar shares of residents—around one in four—who are cost-burdened, with slightly less in the southwest corner of the state at one in five. Renters are much more likely than owners to be cost-burdened. Nearly half of all renters in greater Minnesota and the Twin Cities are cost-burdened.

3. Broadband access is an issue for low-income residents statewide.
While there are areas in greater Minnesota that are still in desperate need of high-speed broadband access, many low-income households in both greater Minnesota and the Twin Cities do not have internet access at home.
Among households making less than $20,000 annually, nearly half in all greater Minnesota regions and 40% in the Twin Cities have no internet subscription at home. This includes an internet subscription for a laptop, desktop, tablet, wireless computer, or smartphone, or because there is no computer in the household. Many middle-income households do not have internet access either. A quarter of households in the northeast, northwest, and southwest regions making $20,000-$74,999 annually, and about one in five residents in the central, southern and Twin Cities regions, report not having an internet subscription at home. Internet access, particularly high-speed broadband access, is crucial for reasons that many of us take for granted, such as distance learning, applying for jobs and working from home, and requesting an absentee ballot.

4. It's not just greater Minnesota that's getting older.
A larger number of older adults live in greater Minnesota. That number will continue to grow, and more rapidly. But many Twin Cities communities are also greying. Inner-ring Minneapolis and St. Paul suburbs like Mendota Heights, Edina, Golden Valley, and Roseville, top out among the 10 oldest cities in the state, with one in five residents age 65 and older. Minnetonka, Bloomington, and White Bear Lake are not far behind and rank among the top 15 oldest cities statewide.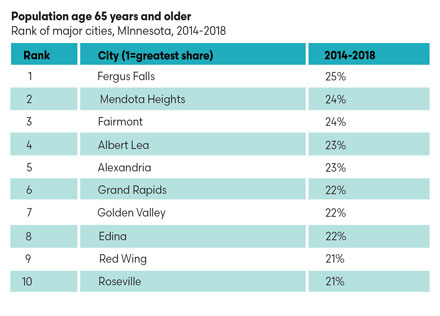 Across Minnesota, communities are facing similar demographic changes and economic challenges, whether in greater Minnesota or the Twin Cities. To learn more about how Minnesota communities are coming together to learn from each other, visit: