Think back to when you were a kid. What's one of the most important lessons you learned? Where did you learn it? I bet you can think of a few places: on the soccer pitch, around the kitchen table, in the classroom, and on the stage.
Looking back, we intuitively understand that learning takes place all the time, in many settings, and it's the layering and interaction of all these experiences that make us who we are. This variety of learning opportunities develops the skills and perspectives we bring to the table, the knowledge we have to share, and our sense of self. When we acknowledge this, it comes as no surprise that the lack of access to high quality afterschool and summer learning opportunities is a contributing factor to the educational disparities in Minnesota.
"High-quality afterschool programs help close race and income gaps in educational achievement, keep young people safe, and develop the skills necessary for success in work and life."
The good news is that dedicated people and organizations across Minnesota are working to engage young people in the crucial learning opportunities that happen outside the school day. I work with this network of committed people every day as the executive director of Ignite Afterschool, Minnesota's Afterschool Network. Recent research re-affirms how important high-quality afterschool programs are for Minnesota's young people: they help close the gap in educational achievement, keep young people safe, and develop the skills necessary for success in work and life. Because of the flexibility of programs, they can adapt to the experiences young people need at different points in their life, becoming an essential part of a cradle-to-career support system. Together, we're striving to ensure access to quality afterschool learning opportunities for all young people in Minnesota.
By looking at Minnesota Compass' presentation of the Minnesota Student Survey data, we were able to see that about 62 percent of young people in Minnesota are highly engaged in afterschool enrichment activities. This seemed cause for optimism, until we looked deeper and discovered that only about 48 percent of lower-income youth regularly participated in these activities, compared to 67 percent of higher-income youth. This gap also persisted between white youth and youth of color.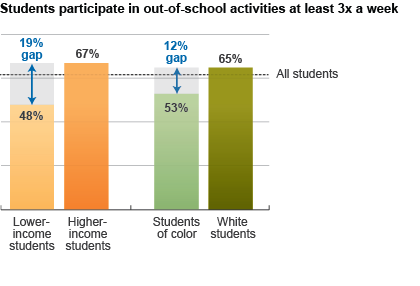 This data guided our work by illuminating a key obstacle to participation in programs: the income and race of young people. It also showed us that young people of color are becoming an increasingly larger share of the population, while poverty is equally prevalent, in both the Twin Cities and greater Minnesota. Looking at these trends helped us take our bearings, and point where we needed to go: We needed to focus on increasing access for low-income youth and youth of color throughout the state.
Addressing this gap in access to afterschool learning opportunities won't be easy, but we're already taking steps in the right direction. We're convening stakeholders across Minnesota to ensure our collective understanding of the issues communities face – especially issues of quality and accessibility of afterschool programs – goes beyond the data. We're also compiling and analyzing the latest research from the local, state, and national level to help increase awareness of afterschool programs, so that families know about opportunities to learn outside of the school day.
Finally, we're bringing together our vibrant network of stakeholders and our knowledge of afterschool to advocate for increased state public funding of afterschool programs in Minnesota, starting with an initial investment in programs serving primarily low-income youth. We know that investing in afterschool activities for all young people in Minnesota is an investment in their success. We also know that when young people succeed, so do their communities, and so does Minnesota.
As executive director of Ignite Afterschool, Kari brings more than 15 years of experience in facilitating community and neighborhood collaborations, including experience as both a youth worker and youth program manager. Kari joined Ignite in 2013 following work at the city of Saint Paul, including serving as director of Sprockets, the city's out-of-school time network. In her free time, Kari loves playing with her two dogs, painting with her preschool son, and losing herself in a good book.
Insight opinions are the authors' alone and do not necessarily reflect the views of Minnesota Compass. Compass welcomes a range of views about issues pertaining to quality of life in Minnesota.