In honor of Hispanic Heritage month, I dug into our Compass data and pulled out 5 trends I found interesting, and hope you do too!
1. Minnesota's Hispanic population is one of the fastest-growing
The Hispanic population of the United States is 54 million, making people of Hispanic origin the nation's largest ethnic or racial minority. In Minnesota, the Hispanic population has climbed from 54,000 in 1990 to 271,000 in 2013. Today, one in twenty Minnesota residents identify as Hispanic.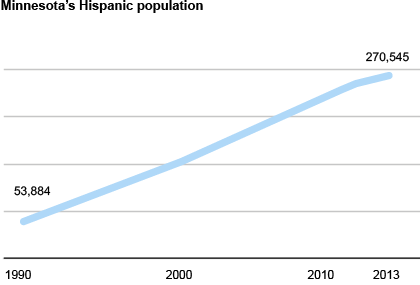 2. As a group, Hispanics are much younger than Minnesota's overall population, and an increasing share are native born
The number of Hispanic children in Minnesota has quintupled since 1990, and Hispanic children now comprise 8 percent of Minnesota's under 18 population. The median age of Hispanic residents is 24 compared to 38 for Minnesota overall. Sixty-two percent of Minnesota's Hispanic residents are native born and 91 percent of Hispanic children under age 18 are native born. About half of native-born Hispanic children have parents who are immigrants.

3. Most Hispanics reside in the lower half of the state
The Twin Cities region is home to nearly 180,000 Hispanics. In greater Minnesota, the highest proportion of Hispanics live in southern Minnesota and central Minnesota, in part, drawn by employment opportunities in farming, processing, and manufacturing plants.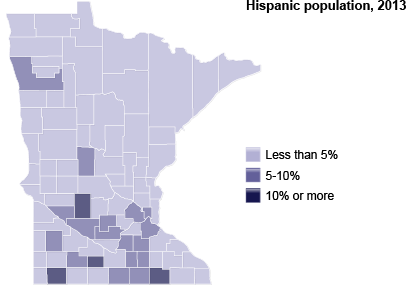 4. High school graduation rates are on the rise, but still low
Similar to the nation, high school graduation rates for Minnesota's Hispanic students have climbed over the last decade. On-time graduation rates in Minnesota rose from 33 percent to 58 percent, but remain well below the overall state average of 80 percent. Just 16 percent of Minnesota's Hispanic population age 25 and older has a bachelor's degree, compared to 33 percent of Minnesota's overall population.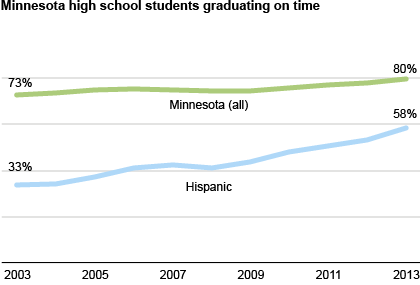 5. A high proportion of Hispanic adults are working, but earn below average
Seventy-one percent of Hispanic adults in Minnesota are working, the 6th highest percentage in the nation, but still 5 percentage points below the share of all adults in Minnesota who are working (76%). And, on average, Hispanics fare far worse when they get their paychecks; the median income of a Hispanic-headed household is $18,000 less than the overall state median household income. About 1 in 4 Hispanic residents live in poverty, more than double the poverty rate for all Minnesotans.
This article contains additional American Community Survey census data not found on the Compass web site.