Historically, Minnesota's labor force participation rate has hovered around 80 percent, one of the highest in the nation. Unfortunately, even high participation in the labor force won't protect Minnesota from experiencing significant talent shortages over the next five years.
Minnesota's talent shortage
Employment projections indicate that, by 2022, Minnesota will need nearly 3.2 million workers to keep pace with historic rates of economic growth statewide. With just 2.9 million people over the age of 16 expected to be in the labor force and working, our state is expected to fall about 239,000 workers short.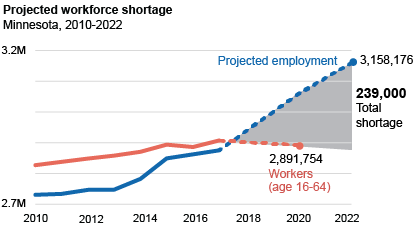 Early warning signs
We are already seeing evidence of a jobseeker's market. Since the end of 2016, the number of job vacancies across Minnesota has exceeded the number of jobseekers. Currently there are 53,000 more open positions than individuals who are available and actively looking for work.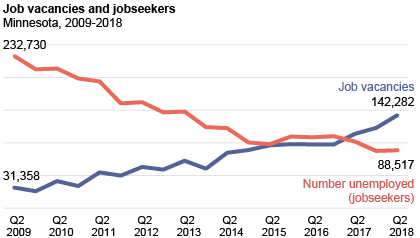 Sustained job growth
In the coming decade, employers in a variety of industries may have difficulty filling open positions. Service-providing industries will experience the majority of employment growth between 2016 and 2026. Job opportunities are expected to emerge in sectors providing services by and for Minnesota's future populations, including our growing older adult population and our increasingly diverse youth populations. For example, the health care industry expects to add 78,400 additional jobs by 2026. Employers in education expect 12,100 additional jobs. Construction may see net growth of 10,300 jobs by 2026.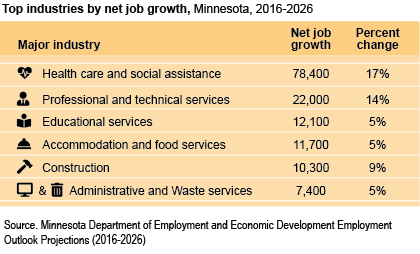 Chipping away at the workforce shortage
With more jobs than working-age adults available to fill them, solving Minnesota's workforce shortage is going to require an "all hands on deck" approach. Facing a workforce shortage of 239,000 workers in the next few years, there are investments we can make to reduce that gap by almost one-third. Estimates from RealTime Talent show us how we can reduce the workforce shortage by investing in specific groups of workers.
Youth workers
The proportion of adults between the ages of 16 and 24 working have not increased significantly over the past 10 years. Youth labor force participation could drop from 68 percent in 2017 to 64 percent by 2022. Factors contributing to the decline include different choices about time use and the balance between school and work, stagnating entry-level wages, and an increasing variety of non-traditional earnings opportunities. Holding youth employment steady could help reduce the gap by an additional 26,000 workers.
Older adult workers
Even as job growth occurs in sectors structured to serve an aging population, job opportunities for older workers will continue to grow as Minnesotans live longer and want or must continue to work beyond traditional retirement age. Rising shares of older adults are working, with about 19% of older Minnesotans working today. Were it not for the 84,000 working Minnesotans over 64, the state would face a shortage of about 23,000 workers today. By enacting policy that would gradually extend the retirement age by 1 year, estimates indicate as many as 1,000 additional workers over age 64 could be available to help fill the gap.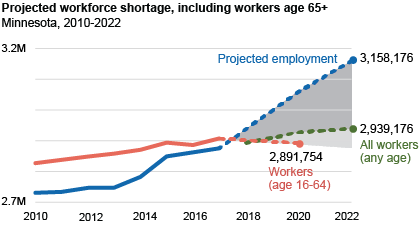 Workers of color
Minnesota has some of the most dramatic disparities in employment by race and ethnicity in the nation. If we eliminate these disparities in employment by 2022, Minnesota could have as many as many as 57,000 additional workers beyond what has been forecasted adding their productive contributions to the economy.
Migration
Even these investments in "homegrowing" our workforce will leave a gap needing to be addressed through in-migration, immigration, technology, and growth in automation.

A moderate increase in net domestic migration could result in as many as 11,000 additional workers. By maintaining the current annual increase in international migration, as many as 6,000 additional workers could be available to address the state's workforce shortage.
What can you do?
Employers struggling to fill jobs should expect to continue interviewing pools of applicants, both younger and older than in the past, and of increasing racial, ethnic, and cultural diversity. Flexible work arrangements, opportunities for advancement, and other characteristics of "good" jobs (e.g., competitive pay, benefits, consistent scheduling) are smart investments and seen by jobseekers as competitive advantages in a tight labor market. By exercising cultural competence, critically examining legacy hiring practices, and embracing inclusive recruiting, hiring, and advancement, employers can further develop the ability to attract and retain the diverse, skilled workforce Minnesota needs to remain economically competitive and ensure our shared quality of life.