Three groups that are at risk of being undercounted in the 2020 census
Every 10 years, the U.S. Census Bureau sets out to fulfill its constitutionally mandated task of counting every person living in the country. The information collected as part of this process is used for many things, including determining political representation, federal resource allocation, and community planning.
But what happens when decisions affecting our quality of life are made with incomplete information? This is a real possibility. Despite its best efforts, the U.S. Census Bureau doesn't successfully count every person in the country. In fact, the agency misses certain populations more than others.
Here is information about three of these groups, providing both a national context and what we know about these populations in Minnesota.
1. Young Children
Nationally, nearly 5% of children younger than five were not counted in the 2010 decennial census, a rate higher than all other age cohorts. Among these children, those who were Black or Hispanic were more likely to be missed.
In Minnesota, there are around 355,000 children younger than five, comprising approximately 6% of our state's population. Children of color make up a third of this population—a share that has grown over the past two decades and is expected to climb for the foreseeable future.
Understanding trends in our child population requires that we have accurate data. With this information, we can better plan for and improve our state's schools, our child care needs, our youth-serving organizations, and our future workforce.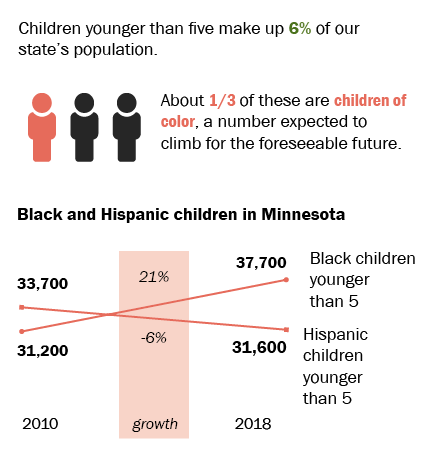 2. Renters
Nationally, just over 1% of people living in rental units were not counted in the 2010 decennial census.  Of that number, more than 12% were Black male renters age 30 to 49, and nearly 9% were Hispanic male renters age 18-29.
In Minnesota, the population living in rental units numbers 1.37 million, a total that has climbed by nearly 150,000 since 2010. With the share of people who rent also on the rise—from 23% in 2010 to 24% in 2018—the need to enumerate every single person in a rental unit is imperative.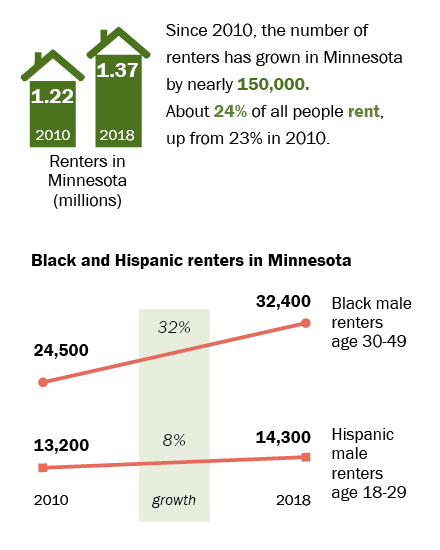 3. People Experiencing Homelessness
Within the U.S., an estimated 3.5 million people are believed to be experiencing homelessness. Homeless people are at risk of being undercounted because of their transitory status, age, lack of internet accessibility, and higher likelihood of living in hard-to-reach locations.
Every three years, Wilder Research spearheads a single-night count of people experiencing homelessness in Minnesota.
During its most recent count in October 2018, more than 10,000 people were experiencing homelessness — nearly 3,500 of whom were children (age 0-17). And this isn't a big-city phenomenon: a third of this population live in greater Minnesota.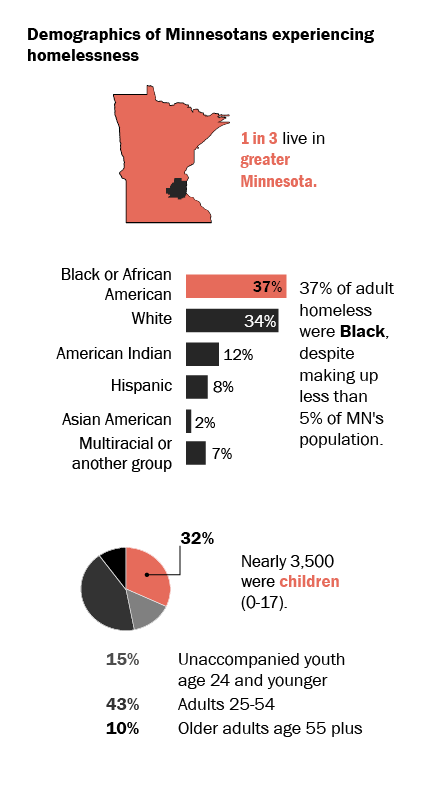 Confused over who should be counted?
Sometimes it's not clear who should be counted. What if you are a student living away from home, or you are not a citizen? What if you live part time in a different state, or are stationed on a military base? The answers to these and other questions about the census are available at https://2020census.gov/en/who-to-count.html.
While you are there, take the Who Counts on Your Census Form? quiz and see how well you do in knowing who should be counted in your home.