A majority of Minnesota youth are highly engaged in out-of-school activities.
Sixty-five percent of Minnesota's youth participate in enrichment activities at least three times a week. The most common enrichment activity? Sports. Participation on sports teams tops the list for 5th, 8th, 9th, and 11th grade girls and boys.
Other top out-of-school activities vary across grade levels. Artistic lessons like music and dance are popular among 5th grade girls, while physical lessons like karate and tennis are popular among 5th grade boys. In 8th and 9th grades, at least one-third of girls and boys participate in religious activities once a week or more. School clubs – like drama, chess, and science club – are common activities in 11th grade.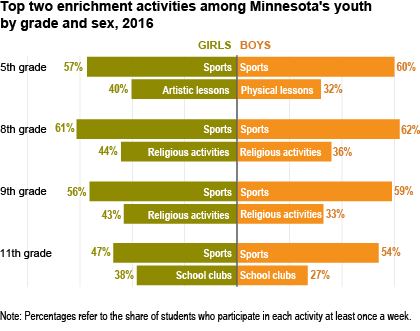 Almost half of Minnesota's teenagers have a job.
Forty-six percent of Minnesota's teenagers age 16-19 work. Youth employment dipped dramatically during the Great Recession, but youth employment had already been on the decline since 2000. Today, teenagers are the only age group for whom levels of employment remain lower than in 2000.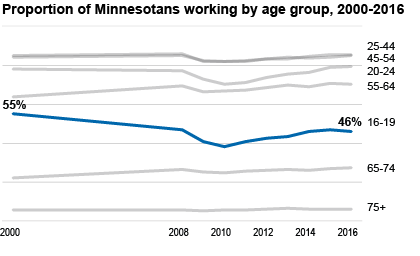 Research points to several reasons for declines in youth employment since 2000:
Increasing enrollment in summer school
Shorter summer breaks due to earlier start dates for the new academic year
Emphasis on community service, volunteerism, and unpaid internships
Availability of grants and loans to fund higher education
Decline in federally funded summer jobs
Job competition from older adults and foreign-born workers
Why does it matter?
So why do we care about what Minnesota's kids are doing when they're not in school? Out-of-school time is more than keeping kids safe and out of trouble. The interests, skills, and relationships that young people develop in quality out-of-school activities and employment also help them thrive.
Quality out-of-school activities and employment can help youth discover and hone skills they will use now and as adults. But we know that there are critical disparities we need to address in access to quality out-of-school activities and employment. For example:
 Out-of-school time activities and employment can be critical touchpoints for youth to develop quality, caring relationships with adults, like coaches, youth workers, mentors, and employers. Sixty percent of Minnesota's youth say that adults in their school and community care about them "quite a bit" or "very much." But outside of teachers and other adults at school, less than half of students in 8th, 9th, and 11th grades feel connected to other adults in the community.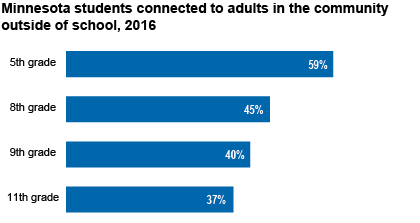 Data to action
It's clear that we have work to do to ensure that all youth have access to quality activities and opportunities to build relationships with caring adults. Want to learn more and get involved? Here are just a few organizations committed to investing in Minnesota youth.
Ignite Afterschool: The goal of Ignite Afterschool is that every community and every youth has access to quality afterschool programs. The organization brings afterschool partners together to strengthen programming and advocate on behalf of quality afterschool in Minnesota.
Minnesota Alliance with Youth: The Minnesota Alliance with Youth works with and for youth to ensure that all young people have access to caring adults, safe places, a healthy start, effective education, and opportunities to help others.
Youthprise: Youthprise works with and for Minnesota youth to reduce disparities related to learning and social emotional development, economic opportunity, and health and safety. It supports nonprofit organizations that serve youth, aligns efforts through citywide and statewide initiatives, and provides opportunities directly to young people.