Do Minnesota's leaders reflect the diversity of the populations they employ and serve?
It's important to know.
Leaders shape our institutions. They define organizational culture and make decisions that have long-standing and wide-ranging impact on people and communities. It matters that these leaders reflect and respond to the diversity of those they employ and serve.
Understanding the diversity of leaders can help us respond to future workforce needs, nurture efforts to increase equity and inclusion in our businesses and institutions, and strengthen social, economic, and cultural ties that make Minnesota unique.
So do our leaders reflect Minnesota's diversity? Minnesota Compass and the Bush Foundation have teamed up to answer this question.
What do we mean by "leadership"?
For this work, we defined leadership exclusively as those at the highest level of management within their institutions, with authority and responsibility for the strategic and operational direction of their organizations.
This project aims to pull together information from a variety of sources. So far, we have collected and analyzed existing data from the U.S. Census Bureau on the characteristics of leaders in government, business, and nonprofit institutions across Minnesota. Using responses to the American Community Survey, we compiled estimates of the number of top executives and elected officials in Minnesota by gender, race, age, education, income, disability, and veteran status. We also compiled the same characteristics of Minnesota's entire adult population age 25 or older to compare the diversity of leaders with the diversity of anyone in our state eligible to step into similarly prominent leadership roles.
Who leads in Minnesota?
Here's what we have learned so far: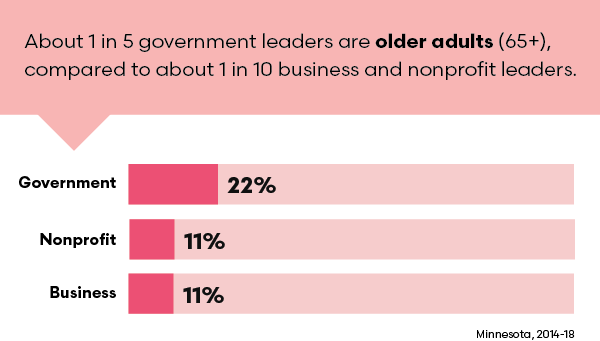 Young adults are not only underrepresented in leadership roles, the share of young adults in leadership is also declining. Today, about one in four leaders in Minnesota is a Millennial, compared to one in three leaders just a few years ago.

With much of the Baby Boomer generation in the midst of retirement, young adults need to be encouraged into leadership pathways and promoted into leadership positions to ensure smooth transitions of authority and institutions.  

We would need to see at least three times as many people of color in positions of leadership in order to reach parity with the population of color among Minnesota's adults. 

The demographic and economic characteristics of leaders in Minnesota give us some insight on how responsive our institutions are to changing populations.
As Minnesota grows older and more racially and ethnically diverse, what changes in leadership should we expect and how can those changes impact decisions, investments, and priorities? These are the questions we hope to address by providing reliable estimates of the demographics of Minnesota leaders for years to come.
This is just the start!
The highlights above only go so far in answering, "Who leads in Minnesota?" In addition to providing annual updates from existing data sources, our work on this project will also equip you with information and resources about Minnesota's leaders, their pathways to leadership, and leadership development.
Sign up for our newsletter to be one of the first to receive the latest leadership data.