COVID-19 adds to greater Minnesota health care woes
As the COVID-19 virus continues to take hold across Minnesota, greater Minnesota communities and their residents face unique challenges in providing and accessing health care, particularly those who have low incomes, are older, or live in isolated rural areas with limited health care services
Greater Minnesota has among the highest shares of residents statewide without health insurance. 
There continues to be uncertainty over how medical care related to COVID-19 will be paid for. Those lacking health insurance are among those at highest risk of financial hardship and are prone to delay medical treatment.
Overall, 5% of Minnesotans lack health insurance in both greater Minnesota and in the Twin Cities metro area. However, pockets across greater Minnesota have much higher shares of residents without health insurance. In 15 greater Minnesota counties, 7% or more of residents are uninsured. Nobles and Mahnomen counties have the highest percentages of uninsured residents by county in the state, with 10% of residents lacking health insurance coverage. Beltrami, Pipestone, and Clearwater follow closely behind, where 9% of residents have no health insurance.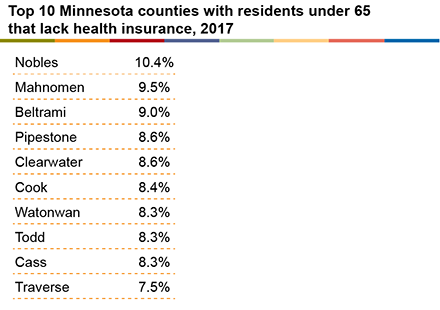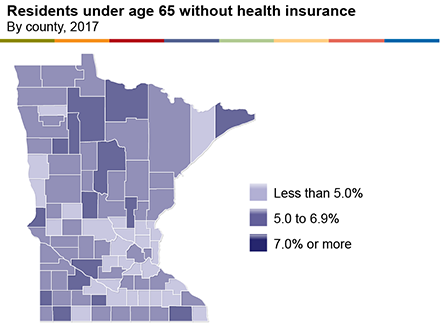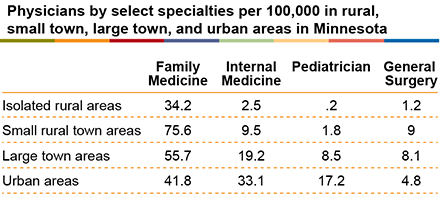 Why is the lack of health insurance risky? Because people who are uninsured are more likely to prolong or not seek care when they are sick. Moreover, when they do seek care, they are often faced with unaffordable medical bills.  Uninsured residents who seek testing for COVID-19, are infected with COVID-19, or—worse—develop a severe case of COVID-19 that requires hospitalization, may be less likely to seek medical care and more likely to be held accountable for a medical bill that they cannot pay.
A recent analysis found that those who are uninsured and are hospitalized due to COVID-19 could be expected to pay between $42,000 and $74,000 in medical bills. For most, health care costs this high would be financially devastating. But there is some relief in sight:  The Minnesota legislature recently passed a bill that will provide funds to pay for COVID-19 testing costs for uninsured residents. In addition, MNsure offered a COVID-19 emergency special enrollment period to eligible Minnesotans who do not currently have health insurance. At the federal level, Congress recently passed the Coronavirus Aid, Relief, and Economic Security (CARES) Act which provides some funding for hospitals to provide care for uninsured patients.
The number of older adults and adults with chronic health conditions has been growing in greater Minnesota. They are at high risk of severe illness if infected with COVID-19.
While available studies show that the majority of people infected with COVID-19 have mild symptoms and recover, "greater Minnesota, particularly rural areas, face a double disadvantage of having more people at risk for severe infection due to COVID-19," says Carrie Henning-Smith, Deputy Director of University of Minnesota's Rural Health Research Center. Why? Because of their age and their current health conditions.
Older adults
A little more than half of Minnesota's older adult population—about 460,000 people—live in greater Minnesota. And in many greater Minnesota communities, the share of older adult residents is much larger than in the Twin Cities metro area—larger, in fact, than many communities have ever experienced. The number of older adults currently exceeds the number of school-age kids in all Minnesota regions except the Twin Cities. In half of greater Minnesota counties, 20% of residents are 65 and older. In Aitkin and Cook Counties, which have the highest percentage of older adults statewide, one-third of their residents are older than 65. In Aitkin County, 40% of residents are 60 and older.
While large numbers of older adults live alone in both greater Minnesota and in the Twin Cities, those living alone in rural areas face challenges unique to their geographic circumstances, as the state has issued stay-at-home restrictions to curb COVID-19.
"It's one thing if you can still get to the senior center or your exercise class," explains Henning-Smith, "but it is difficult if you can't get online to connect with people or have groceries delivered."
Some rural communities lack broadband infrastructure, and grocery delivery services that operate throughout the Twin Cities may not be available to residents in lower-density, rural areas.
Restrictions are key to reducing the impact of COVID-19, but those same restrictions limit older adults' ability to meet their daily needs and puts them at even greater risk if infected with COVID-19.
Adults with chronic conditions
Many greater Minnesota communities have higher rates of chronic conditions, such as diabetes and obesity than the Twin Cities metro area. A recent analysis by the Minnesota Department of Health found that 40% of residents in isolated rural areas reported having a chronic condition compared with 36% in urban areas. In addition, 72% of older adults in Minnesota are estimated to have at least one chronic condition.
Greater Minnesota communities were already making adjustments to develop health care and social service infrastructure—for example, telemedicine and transportation services—that meet the needs of their growing older adult residents and residents with underlying chronic conditions. And they will likely need to prepare for larger numbers of severe COVID-19 cases than their current system may be prepared to handle.
Greater Minnesota communities are already at a disadvantage when it comes to health care delivery
Although COVID-19 has yet to hit Minnesota's rural communities severely, Henning-Smith notes that the virus's spread to greater Minnesota is only a matter of time and predicts that rural health care facilities will be strained.
"Rural communities are bracing for and trying to prepare as best they can," she says, "but we know rural areas already have limited health care resources."
The Minnesota Department of Health's Office of Rural Health and Primary Care reports that the majority of Minnesota's healthcare providers are licensed in metropolitan areas, and it notes that 54 of Minnesota's 87 counties are designated as Health Care Professional Shortage Areas in primary care. This means that there are fewer providers, including physicians, available across greater Minnesota, particularly in isolated rural areas.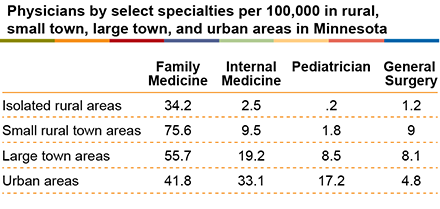 Source: Minnesota Department of Health, 2019
In addition to fewer providers, the health care facilities in greater Minnesota, which are smaller in number, have fewer resources. Rural hospitals have seen declining revenue in recent years, and the COVID-19 pandemic has increased those financial challenges. Data from the Centers for Medicare and Medicaid Services, compiled by Kaiser Health, reports that Minnesota has limited Intensive Care Unit (ICU) beds available across the state. In fact, more than half of greater Minnesota's 80 counties do not even have ICU beds available. And of those counties that do have ICU beds available, they may have as few as 1 to 3 beds.
How are greater Minnesota communities coping?
Through her work with the National Rural Health Association, Henning-Smith notes that rural communities are putting their heads together to come up with resilient and resourceful solutions. One of those is to work with state and federal organizations to allow for additional flexibility to provide telemedicine visits. The passage of Minnesota's recent COVID-19 relief bill requires health insurance plans to cover telemedicine visits during the COVID-19 crisis and allows temporary health facilities to be set up. Another is to continue to support the daily needs of older adults by supporting organizations such as Meals on Wheels, which has seen a dramatic increase in demand since stay-at-home restrictions were put into place. As the COVID-19 outbreak continues, greater Minnesota will be tasked with developing more solutions to meet the needs of their communities.
For more information about COVID-19, rural health care, and to learn how you can support rural communities:
COVID-19
Rural Health
Aging Services
Meals on Wheels: Find your local Meals on Wheels program, which provides meals and social interaction through a mobile meal delivery program.
Minnesota Association of Area Agencies on Aging: A coalition of the seven Area Agencies on Aging in Minnesota. Resources include resources to support the needs of older adults.