by Ellen Wolter
Have jobs been growing in greater Minnesota? Yes. More than you think.
Nationwide, recent job growth occurred largely in metropolitan counties and urban areas. But in Minnesota the story of job growth is a little more complicated. Although job growth this past year was concentrated in the Twin Cities metropolitan area, greater Minnesota grew too, though in uneven ways. To better understand the economic conditions outside the Twin Cities metro region, here's a closer look at job numbers over the past several years, with some surprising findings.
In some parts of greater Minnesota, jobs are growing as fast as in the Twin Cities metro.
Just this past year, greater Minnesota counties Cottonwood, Lake of the Woods, Beltrami, Dodge, Nicollet, Itasca, and Isanti ranked among the top 10 counties in job growth statewide, alongside the Twin Cities metro area counties of Carver, Washington, and Anoka.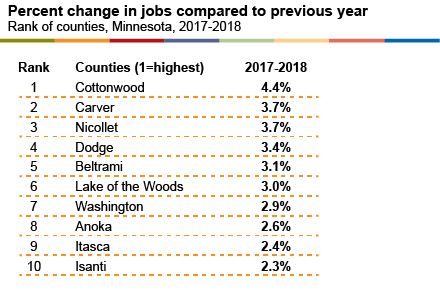 Half of all greater Minnesota counties experienced job growth this past year.
Of those greater Minnesota counties experiencing job growth, 29 are identified as non-metro by the United States Department of Agriculture because they have no cities larger than 50,000 and are outside the boundaries of metro areas. These 29 non-metro counties are thriving despite being farther from a greater Minnesota metro area like St. Cloud, Rochester, Duluth, or Moorhead. Among these non-metro areas is Cottonwood County which had the highest percent change in jobs statewide—a 4% increase from the previous year—due in large part to growth in their manufacturing sector.
Minnesota bucks the trend.
Statewide, greater Minnesota has seen larger proportional gains overall in jobs than the Twin Cities metro area since 2000. Following the Great Recession, job growth in greater Minnesota has not followed the same pattern as other states with many non-metro areas. "The fact that greater Minnesota has had the same job growth as the state overall is really impressive," says Luke Greiner, DEED labor analyst for central and southwest Minnesota. "What keeps this job growth going is that there are pretty strong manufacturing, transportation, and construction sectors in greater Minnesota." Although education and health, retail, and leisure/hospitality industries make up the largest share of jobs in greater Minnesota, these industries have seen smaller proportional job growth than other industries like construction and manufacturing. The information, construction, natural resources/mining, transportation, and manufacturing industries saw the largest percent gains in jobs in greater Minnesota between 2010 and 2018.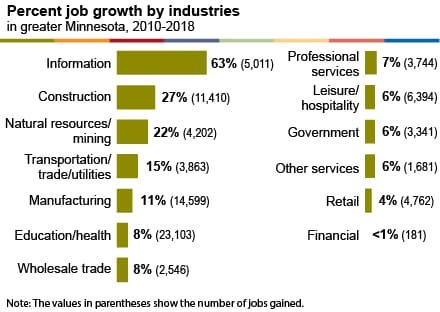 Across greater Minnesota, about 70% of Minnesota's 60 non-metro counties also saw job growth between 2010 and 2018, too, with Pope, Lake of the Woods, and Le Sueur counties leading the way due to growth in their manufacturing, construction, and professional services industries.
Demographic and economic factors create challenges and opportunities for job growth in greater Minnesota.
A complex mix of factors is contributing to job growth in different areas of greater Minnesota, but this growth could be hampered by demographic trends such as population loss and the related decline in working-age adults. The lack of infrastructure investments, such as broadband availability and access could also stymie growth.
In fact, in some areas of the state, these forces are already at play.
The Minnesota counties that saw the steepest declines in non-farm jobs in the past eight years, following the Great Recession, are all non-metro counties. These counties are also more isolated from large urban areas in that they are either entirely rural (isolated from towns and urban areas), or are a mix of rural and small towns.
Additionally, all of these counties, with the exception of Mahnomen County, have experienced population loss since 2010 and, in some cases, since 1990. Much of the population loss includes working-aged adults (16-64) which leaves industries and businesses struggling to fill existing jobs and challenged to grow their businesses. In Minnesota, there are four working age adults to support every one older adult. But in all of the greater Minnesota counties experiencing job declines between 2010 and 2018, all but three have just three working-age adults to support every one older adult. The exceptions? In Lac qui Parle, Big Stone, and Lincoln counties, where there are just two working-age adults to support every one older adult.
With these complex forces at play, some of greater Minnesota's local economies are in flux—and others are flourishing. Cottonwood County, for example, experienced the strongest job gains statewide this past year, despite being located in a region of the state that has struggled to recover following the Great Recession. "This area has had an ebb and flow that is pretty typical. Because it has a tight labor market—the fact that there is job growth means that there are people moving into Cottonwood County, or they are pulling in people who have not traditionally been in the labor market," says Luke Grenier.
Drew Hage, Development Director at the City of Windom in Cottonwood County, attributes the recent growth in this area to two factors: investments in highway infrastructure connecting Windom directly to Omaha and Minneapolis, and fiber networks that have attracted transportation, retail, and manufacturing businesses, including Comfrey Farm Prime Pork which opened in 2016. "With these new business investments, we have jobs—including professional jobs that only require a 2-year degree. These jobs pay well in an area with a lower cost of living than the metro and greater Minnesota overall." Hage believes that the combination of these investments and the high quality of life that greater Minnesota offers will continue to stimulate job growth. "Our community is positioned well for growth, and we expect to see our community in southwest Minnesota continue to thrive and grow." In fact, the rewards of those investments may also be impacting nearby counties; Jackson, Nobles, Watonwan, Brown, Murray, and Pipestone counties all saw job increases this past year.
Jobs across greater Minnesota have continued to grow in many areas despite demographic shifts. But in the coming years those changing demographics will create potential challenges for the economic viability of some greater Minnesota communities. Much like Cottonwood County has, local economies will be looking for new ways to invest in their communities to encourage job growth.
Learn more about ways Minnesota communities are investing in their local economies by connecting with the following organizations:
Minnesota Association of Development Organizations promotes economic prosperity across greater Minnesota through a variety of services.
Growth & Justice connects people, places, organizations, and ideas to invest in and promote inclusive economies & equitable job growth.
Minnesota Department of Employment and Economic Development (DEED), through a public infrastructure program, provides grants to greater Minnesota communities to stimulate economic development.
Launch Minnesota is a new DEED statewide collaborative effort to accelerate the growth of startups and amplify Minnesota as a national leader in innovation, particularly in greater Minnesota.
Lyft Career Pathways makes funding available to high schools (and their partners) to develop shared career and technical education (CTE) courses and programs.
Minnesota Initiative Foundations respond to regional economic and community needs and opportunities in six greater Minnesota regions. Each foundation provides unique grants, business loans, leadership programs, and donor services.
University of Minnesota Extension Service, Center for Community Vitality helps Minnesota communities develop an economic strategy including growing retail trade, retaining community businesses, and understanding local economy changes.
Rethos Main Streets helps towns and small cities in greater Minnesota maximize both their people and built assets for economic vitality.
Interested in learning more about your local economy and demographic changes?
Our Economy section and geographic profiles contain information on job growth and demographics across the state.
Minnesota's Department of Employment and Economic Development (DEED) Regional Profiles provides labor market data about your region
The Center for Rural Policy and Development provides economic analyses about rural Minnesota.
The Minnesota State Demographic Center details demographic changes across the state, including in rural Minnesota.