Higher COVID-19 death rates among Black Minnesotans
In Minnesota, 7.5% of COVID-19 deaths have been among Black Minnesotans. African Americans make up about 7% of the state's population, so on the surface there appears to be little racial disparity in COVID-19-related deaths between Black and White Minnesotans. When we consider the rates of these deaths by racial group population, however, the inequities become more apparent.
In a state where 80% of residents are White (non-Hispanic), it stands to reason that numerically most deaths due to COVID-19 have occurred among Whites. But when fatality rates account for the relative size of each racial group within Minnesota's population, we see that deaths per 100,000 residents reveal more about this disparity, with 21 deaths per 100,000 White (non-Hispanic) Minnesotans compared with 28 deaths per 100,000 Black or African American Minnesotans.1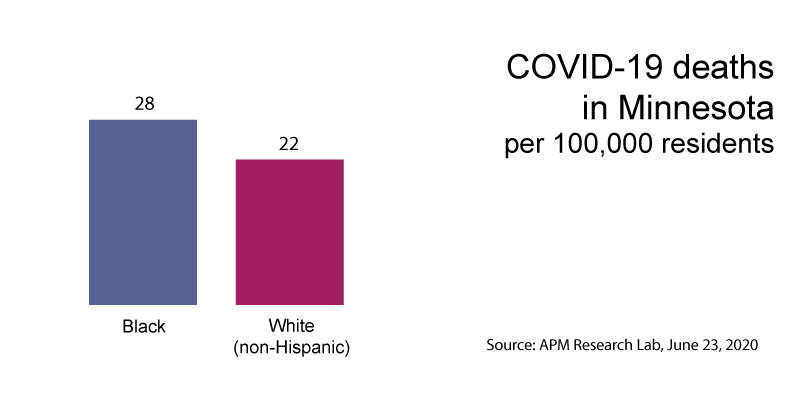 Black Minnesotans aren't the only group experiencing outsized impacts relative to their population size, but African Americans are the second largest racial group in Minnesota. Exposing and discussing this disparate impact can help inform policy approaches to promote equitable strategies to slow the spread, save lives, and help all Minnesotan's successfully get through this better for having fought the pandemic together.
---
1The Black or African American population in Minnesota is around 380,000 according to the most recent estimates from the Minnesota State Demographer's Office.
Learn more about COVID-19 and racial disparities:
"The color of coronavirus: COVID-19 deaths by race and ethnicity in the U.S." APM Research Lab
"What we know about COVID-19's impact on Black Minnesotans" vox.com