Minnesota is home to 5.6 million people, the 22nd largest state in the nation by population size. And we're growing. We've gained 300,000 residents since the last decennial census, the 16th largest numeric increase of any state. That means we've grown more than some larger states like Indiana, Maryland, Michigan, Missouri, New Jersey, and Wisconsin.
A growing population is important to ensure our ongoing economic prosperity and growth, helping to secure the human capital we need to help our state remain economically competitive. It's also important as we approach the next decennial census, a once-a-decade count that, among other important things, determines how much federal funding flows to our state and whether we hold onto eight congressional representatives.
What's fueling our growth?
In terms of a growing population, we have a couple of things going for us. We continue to experience natural increase, or more births than deaths. Statewide, natural increase is the largest contributor to our state's population growth. Since 2010, there have been about 570,000 births and 342,000 deaths, amounting to a net gain of about 228,000 Minnesotans due to natural increase.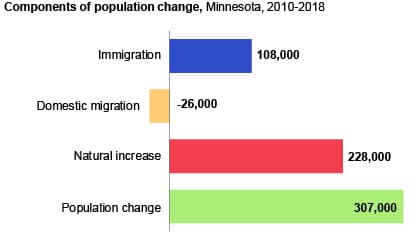 Immigration to Minnesota is also fueling population growth. More than 100,000 immigrants have moved to Minnesota since 2010, with our largest gains from new residents who were born in Africa and Asia.
On the flip side, we've been losing residents to other states. Between 2010 and 2016, Minnesota lost more residents than it gained in state-to-state exchanges. We've seen net in-migration for the last two years, but not enough (yet) to offset losses earlier in the decade.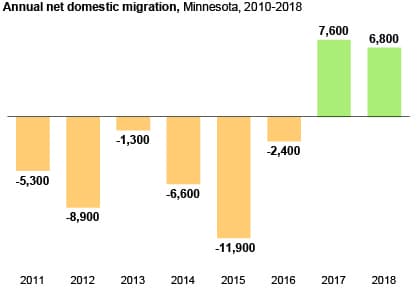 There are factors that pull people to and push people away from our state. As hardy Minnesotans, we like to suggest that our weather keeps non-Minnesotans away. After a winter like this last one, even the hardiest of us were dreaming of a workplace window overlooking a cactus. Or a palm tree. And the weather might contribute to some of our population losses to other states like Arizona, Florida, and Texas. As Minnesota's baby boomers continue to retire, some may be ready to turn in their snow shovels for a pair of sunglasses.
But while we've lost thousands of Minnesota residents to warmer states since 2010, some of our largest losses have been to (sunny? warm?) North Dakota. This is where the weather argument falls flat.
Maybe it's not all about the weather?
Thousands of people have left Minnesota for North Dakota, and not in pursuit of an office overlooking a cactus. Rather, migrants to our neighbor to the west have likely left to pursue job opportunities and higher wages. So maybe it's not all about the weather? Matthew Lewis, Vice President of Strategic Initiatives at the GREATER MSP partnership, points to two main reasons that workers relocate: economic opportunity and meaningful social connections.
What does Minnesota have going for it in terms of economic opportunity? Jobs are growing, with high growth predicted in industries like health care and transportation that pay above-average wages. Minnesota ranks among the top ten states in the nation for employment and adult educational attainment. And many of our residents benefit from this economic prosperity: We are home to one of the highest rates of homeownership in the nation and one of the lowest poverty rates among states.
And what about meaningful social connections? We retained the highest rate of voter turnout in the nation in the 2018 midterm election. We have the second highest rate of volunteerism and the sixth highest rate of neighbors who say they help or are helped by other neighbors. These measures affirm Minnesotans' commitment to and belief in civic engagement. More broadly, they demonstrate that Minnesotans care about and take action to improve their communities.
How and how much?
How and how much we are growing matters. We need to know how our communities are changing so that we can work collectively to ensure high quality of life for all Minnesotans. The factors that are producing the most population growth – births and immigration – are changing the composition of our communities. The factors that are contributing to population loss – out-migration and aging populations – are also creating shifts within our communities.
It is also important to know how much we are growing, as this information is used for planning, business development, political representation, and federal funding. We are less than a year out from the next decennial census and it is critically important that everyone is counted. This is a message you're going to hear echoed in a lot of places because there's a lot at stake.
So what can you do? Here are two simple things.
First, complete your census form. April 1, 2020, is Census Day, but you can start learning more about what to expect. The 2020 Census will be the first time that households will have the option of completing their census form online, but phone and mail options will also be available. The questions are simple and ask about:
whether the home is owned or rented,
how many people live in the household, and
the sex, age, race, ethnicity, and relationships of individuals in the household.*
Second, encourage others to participate in the census. Talk to your family, friends, neighbors, and colleagues. Share information on social media. People need to know about the importance of a complete count, and we can all work to ensure a fair, accurate, and reliable count in Minnesota.
* At the time of this article, the Supreme Court of the United States had blocked the Trump administration from including a question on citizenship status in the 2020 census.
Additional resources
Informational materials from the Minnesota State Demographic Center and the U.S. Census Bureau help explain the 2020 census, how to take it, and why a complete count matters. There are also answers to commonly asked questions about data security and privacy.
Follow national correspondent Hansi Lo Wang, National Public Radio, as he covers the 2020 census. His recent article, What You Need to Know About the 2020 Census, offers a comprehensive explanation of why the census is important, who gets counted, what will be asked, how it is taken, and more.
Join the Minnesota Census Mobilization Partnership, a collaborative of organizations and individuals working together for full participation by Minnesotans in the 2020 census. The partnership keeps members informed of the latest news, events, and action alerts related to the 2020 census.
Curious about how population change is playing out differently in other states? Check out the interactive visuals in What's driving your state's growth? Babies or suitcases? from Andi Egbert, Senior Research Associate with the APM Research Lab.