Amidst the disruption and changes created by the COVID-19 pandemic, Southwest Initiative Foundation (SWIF) kept a steady focus on the people and communities of southwestern Minnesota.    
A regional community foundation that serves 18 counties in the southwest corner of the state, as well as the two Native nations that share its geography, SWIF has been able to inject more than $27 million into the local economy since 2020, including the administration of dollars through state and federal programs for nonprofits, businesses, and families. "It's the most in terms of annual dollar impact in any of our 37-plus years," said former SWIF Communications Director Karen Grasmon. "It's been rewarding for us and has pushed us to think of infrastructure and the way we do our work."
SWIF's response to the pandemic was exactly what the foundation was built for nearly four decades ago. In the 1980s, Minnesota's rural communities were reeling from a farming crisis that saw the foreclosure of more than 10,000 farms.
"SWIF's original mission was alleviating distress. The great challenges people were facing in 2020 reflected what was happening when we were formed," Grasmon said. "We were able to respond well because we had the resources and relationships to leverage the dollars people needed. We try to be a connector and think through what the needs are and where there are resources."  
One such resource is Minnesota Compass. SWIF staff use Compass data and services to determine where they can make the most impact when leveraging funding for programs and services.
Here are some of the ways SWIF has used data-informed decision-making.
Child care woes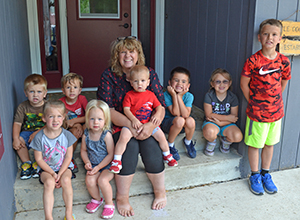 When pandemic mandates hit in March of 2020, child care providers throughout the state were dramatically impacted. Immediately, the six Minnesota Initiative Foundations, which includes SWIF, set up its Emergency Child Care Grant program, to make sure providers offering care for children of emergency and essential workers could remain open and were able to purchase more cleaning and personal care supplies.     
In the southwest region, 520 child care providers, which includes 490 family-based and 30 centers, received $452,000 through the program.
Before the pandemic, the region was already short over 3,000 child care spots.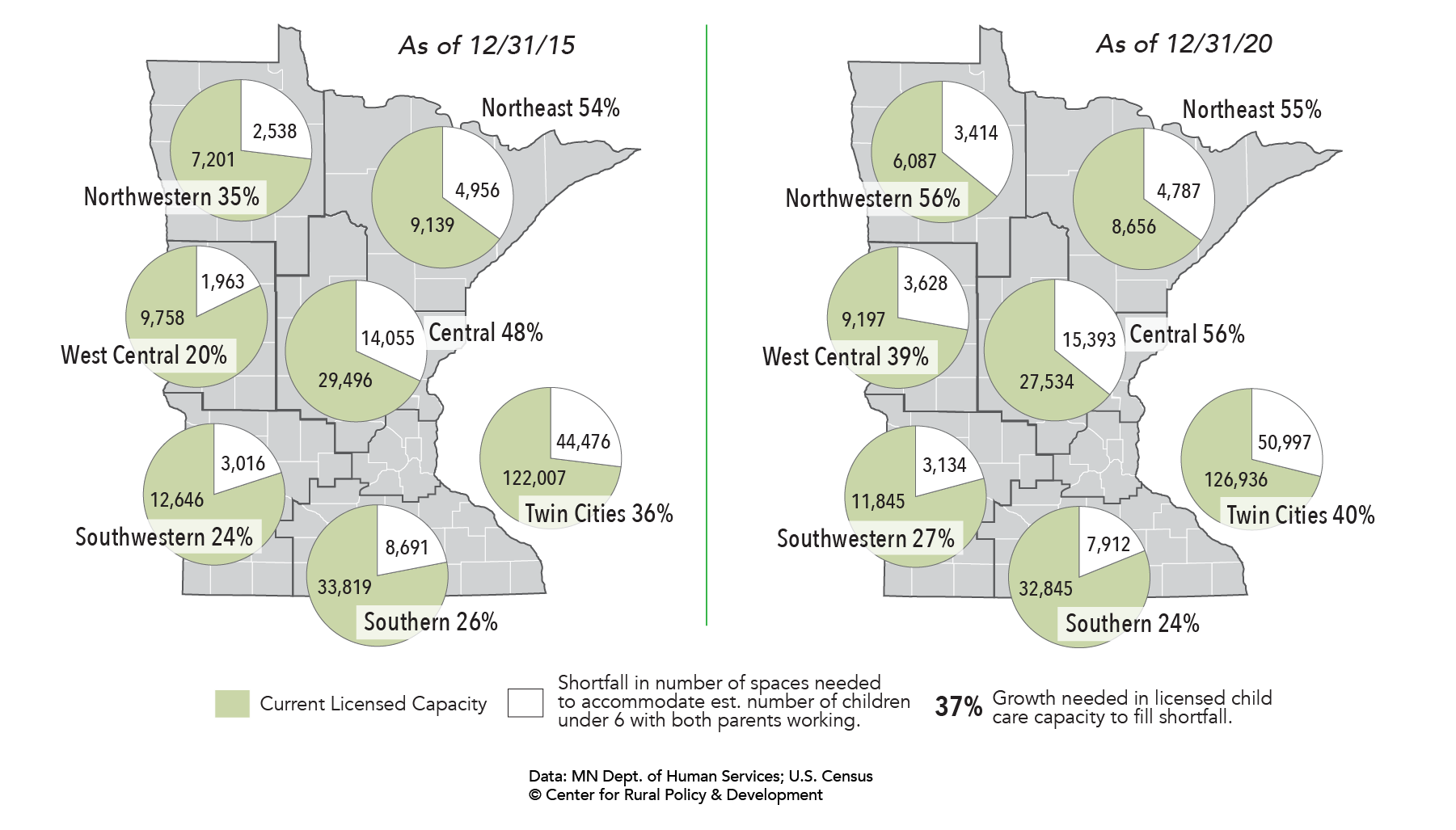 Reprinted with permission from Center from Rural Policy & Development
But that number is just the tip of the iceberg when it comes to the number of people impacted by lack of child care. "We also have a workforce shortage, so a lot of employers are affected by the child care crisis. There's a broader story of what's happening in Southwest Minnesota," Grasmon said.
Manufacturing
That broader child care story can be seen in the manufacturing industry. In southwestern Minnesota, manufacturing is the second largest employer, with nearly 30,000 manufacturers bringing in the second most wages to the region.
"Thinking about age demographics these past few years has been extremely important," Grasmon said. "How many older adults were at higher risk of COVID-19? What is the impact on our healthcare system, and what are the specific needs? Population trends have a ripple effect across communities."
Inclusive communities
Compass's Minnesota Diversity Index shows that some of the most diverse counties in the state are in the southwest corner. For example, visit Nobles County, and there's a 59% chance the next person you meet will be from a different ethnicity or race.
In early 2020 SWIF became a member of Welcoming America, a national effort to build inclusive communities throughout the United States. The initiative is a good fit for SWIF. One pillar of their "Grow Our Own" strategic plan is developing vibrant and welcoming communities.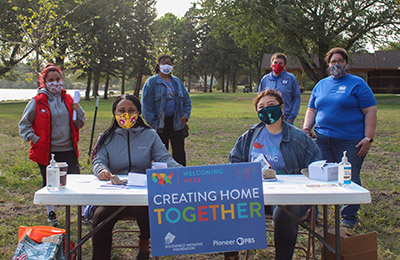 SWIF staff used Minnesota Compass city data to identify four of the more culturally diverse communities in Southwest Minnesota to help host events during Welcoming America's Welcoming Week that September: Granite Falls, Morton - Lower Sioux Indian Community, Willmar, and Worthington. "Before we met with the communities, we were hopping on Minnesota Compass to be grounded in data. We used the local community profiles to customize our presentations," said Grasmon.
All four of the communities participated in the week's activities centered on the theme "Creating Home Together through Art." Events included drumming circles, free art activities, voter registration, artist demonstrations, and a "sociability run." In 2021, the number of southwestern Minnesota communities that took part in Welcoming Week grew to nine, and in 2022, 10 communities participated.
More than numbers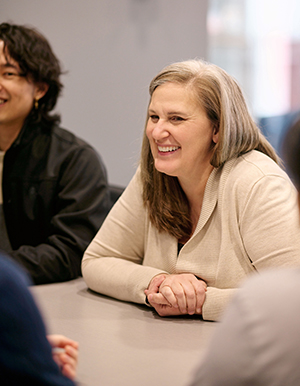 While data have been an important part of SWIF's planning and evaluation, putting a face and name to the people impacted by their programs is also a priority. SWIF's Youth & Community Program Officer Amy Brustuen made it part of her mission to reach out to residents whose voices are often missing in feedback, including people re-entering the workforce, non-English speakers, and families on economic assistance programs such as the Minnesota Family Investment Program—all people who may experience isolation. The message she shares is "Your voice matters, you are a part of this community."
"If I were not going to find that voice, I would be disregarding a treasure. It's a missed opportunity for our whole region," she said.
To support and amplify these voices, Brustuen developed a moms' advisory panel, focusing on single mothers in the region. She is now working to expand the panel to include other members such as single fathers, grandparents who are raising their grandkids, and foster parents. "Families look different for a lot of people," she explained.     
The panel helps inform what the problems and solutions are in the region. "A lot of people think they don't have an answer, but they do," Brustuen said. "When I don't have a solution to a problem it means I haven't asked enough questions."
Responsive and adaptive
More than three years after the pandemic put a halt to normal operations for many, Grasmon will tell you that SWIF is not back to business as usual, and that's intentional. Although SWIF continues to use its influence to provide time-tested responses to regional needs and leverage dollars for the benefit of Southwest Minnesota, the staff and board are honing their skills and developing strategic goals that allow them to pivot, adapt, and look to the future to inform today's decisions.
Learn more about Southwest Initiative Foundation.
Learn more about the residents of Southwest Minnesota.