Minnesota's leaders do not reflect the diversity of our state's communities. While ensuring equitable representation is a moral imperative, employers who actualize their commitments to diversity, equity, and inclusion also benefit in multiple ways. For example, research indicates organizations with diverse leaders are more profitable, while diverse teams are more innovative and more rigorous in their decision-making processes.
Employers play a crucial role in supporting and developing leaders of all backgrounds. To better understand the leadership development resources Minnesota employers provide to their staff, Wilder conducted 59 interviews with staff from the business, nonprofit, and government sectors. Themes from these interviews are reported here, ordered in each section by the frequency with which they were endorsed by respondents.
Most organizations reported providing leadership development opportunities to their staff.
Nearly all organizations reported providing some form of leadership development to their staff. Organizations most commonly reported providing support or encouraging, and sometimes financially supporting, their staff to take advantage of external opportunities, such as trainings or conferences. Respondents also frequently reported offering internal training opportunities, such as formal leadership development programs; assessment-based workshops on topics such as personality, leadership style, and strengths assessments; and trainings aimed at specific roles in their organization.
Respondents also commonly said their organization provides special opportunities to develop skills, such as allowing staff to stretch the scope of their role to pursue higher level tasks, and providing opportunities to work on special projects or serve on cross-functional teams, workgroups, or subcommittees.
Additionally, several respondents reported providing funding to staff for professional development, tuition reimbursement, or for certifications and/or licensures needed for their positions. Several described mentoring efforts, either formally or informally, or that staff meet with their supervisors to discuss development.

Few organizations reported providing formal leadership development opportunities aimed specifically at staff from marginalized backgrounds.
We also asked respondents whether any of their organization's leadership development programs or activities are aimed at staff from marginalized communities, including staff with disabilities, staff from specific age groups, and staff who identify as Black, Indigenous, or People of Color (BIPOC), LGBT+, women, Veterans, or any other group. Very few respondents reported providing formal leadership development opportunities aimed at staff from specific communities. Rather, respondents most frequently shared general statements about supporting leaders of all backgrounds, such as their organization has an inclusive and welcoming workplace culture, their organization doesn't discriminate, staff from marginalized communities are encouraged to pursue development opportunities, and/or their organization is responsive to the needs of staff from marginalized backgrounds. However, our survey of leaders suggests this often isn't how leaders of marginalized backgrounds experience their workplaces.
Other frequently reported efforts include:
Intentional efforts to recruit staff from marginalized backgrounds
Providing educational programming regarding issues relevant to marginalized communities, such as workshops focused on working cross-generationally, lunch-and-learn sessions on LGBT+ issues, and facilitated discussions regarding gender, race, or ethnicity
Implementing specific policies or practices, such as reviews of existing policies, job requirements, and employee handbooks from an equity lens, offering flexible scheduling, encouraging staff to use the bathroom of their choice, offering flexibility regarding deployment, or adding pronouns to email signatures.
Several respondents shared that the small size of their organization poses a challenge to prioritizing leadership development activities or to providing tailored opportunities to staff from marginalized backgrounds.

Community-based leadership development efforts most frequently consist of internships and other placement programs.
While respondents were asked whether their organization provides funding to any community-based leadership development programs or initiatives, few reported doing so. Instead, respondents generally discussed other ways in which their organization supports community-based efforts. Respondents most frequently described providing opportunities related to internships, AmeriCorps positions, or other types of placements. These opportunities range widely, but generally involve placing youth and young adults, such as high school or college students, in their organization or other professional settings to learn job skills. Several respondents also described supporting pathway or pipeline programs for individuals to pursue career interests in specific areas (e.g., policy, policing).
Most respondents indicated that their organization provides this support to increase the pool of leaders for their own organization. Several respondents reported additional goals, such as supporting or building a relationship with their community and increasing or supporting the pool of leaders in their community or sector.

Efforts have been significantly impacted by the COVID-19 pandemic.
We asked respondents to share how the COVID-19 pandemic has impacted leadership development efforts. Most respondents described how their organization, including its leadership development efforts, had to shift to virtual work processes. Several of these respondents described how the virtual format is lower quality, less personal, or otherwise more challenging. Some described a greater need for working at home, a lack of resources for doing so, and other new technology-related needs.
In addition, several respondents described:
Reduced funding or budget cuts, fewer leadership development opportunities, and/or having to put efforts on hold or slow efforts down
Fewer opportunities for social connection, networking, and informal mentoring
Greater mental health needs among staff
Despite these challenges, several respondents identified positive impacts, such as the pandemic providing opportunities to rethink leadership structure and work processes and for lower level staff to gain leadership skills, and that virtual leadership development opportunities can actually be more accessible or more affordable.

More resources are needed.
Most respondents reported a need for more time, funding, staff, or overall capacity in order for their organization to prioritize leadership development efforts. Some of these respondents emphasized the importance of resources that are affordable, accessible, or easy to implement, such as readymade programming organizations can deliver themselves.
In addition to those resources, respondents frequently expressed interest in guidance regarding the design and implementation of their diversity, equity, inclusion, and leadership development efforts. Specifically, respondents requested guidance on:
Best practices and examples of effective policies and practices
How to tailor efforts to specific communities and identities
How to design and implement change management strategies and how to frame internal messaging regarding diversity, equity, and inclusion efforts
What resources currently exist
How to build relationships with, learn from, recruit, and conduct outreach to specific communities
How improved diversity, equity, and inclusion could benefit their organization
Many respondents also described a need for more or improved classes, trainings, or seminars. Some suggested these opportunities specifically for supervisors, leaders, certain identities (e.g., BIPOC leaders), and specific sectors (e.g., philanthropy). Some also described the need for opportunities that are more affordable or accessible, such as offering trainings outside of the metro area.
Lastly, several respondents suggested that partnerships between organizations could be helpful to facilitate information and resource sharing; that other social and policy issues, such as housing and transportation, need to be addressed to support leaders of marginalized backgrounds; and a need for organizational leadership to be more open to change, reflect honestly about diversity, equity, and inclusion (DEI)  issues, and/or be more intentional with their DEI efforts.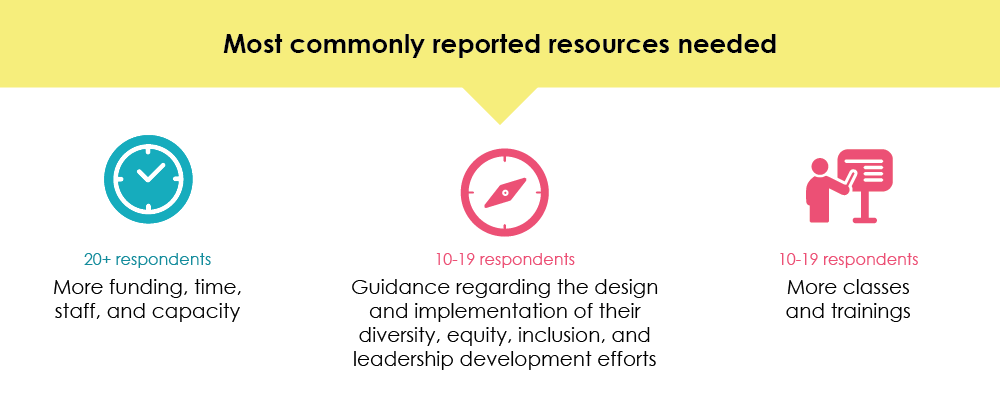 How to spark change.
For Minnesota to achieve its potential, our organizations need to reflect the communities they serve and support leaders of all backgrounds. While leadership development efforts are common, opportunities tailored to leaders from marginalized backgrounds are limited. Moreover, organizations need more funding, capacity, and resources in order to implement efforts, and this need has intensified since the COVID-19 pandemic.
To address these challenges, Who Leads in Minnesota? provides several resources organizations may find useful in their efforts to support leaders of all backgrounds:
Sign up for our newsletter to receive updates on data releases and new resources.
Black and white photo by Christina@wocintechchat.com on Unsplash.