Authors: Rodolfo Gutierrez and Daisy Richmond
Hispanic Advocacy and Community Empowerment through Research (HACER)
UPDATED OCTOBER 2021
More than 345,000 people of Latino descent live in Minnesota, making up 6% of the state's population. While this total may sound modest in size, Latino population growth in Minnesota has been quite large, increasing 38% since 2010, compared to 8% growth for the state. Minnesota's Latino population also continues to grow in visibility.
But what do we mean when we say "Latino?" To some, it may conjure a uniform group of people. However, nothing could be further from the truth.
Just as there is great diversity within other racial and ethnic groups, variation among Minnesota's Latino residents is significant. From U.S. born residents who descended from a specific Latin American culture to recent immigrants who were born in a country south of the border, Minnesota's Latino population is made up of a complex web of individuals from distinct cultures. In addition, they differ by age and gender, educational attainment, and health status. They differ in their economic situations and housing access. Even in the language spoken at home. For local government agencies, community organizations, and others, understanding these differences will increase the likelihood that they will successfully design programs or strategize outreach to these communities.
The organization we work for—Hispanic Advocacy and Community Empowerment through Research (HACER)—is one such organization. HACER is a small research group focused on improving the lives of Minnesota's various Latino communities. To conduct our work effectively, we require information to help us better understand the realities of our targeted audience. Fortunately, the information available from Minnesota Compass, particularly their new cultural community profiles, has been key to helping us better hone our work, from developing our grant proposals and establishing research protocols to conducting evaluations and demonstrating the reach and impact of our work.
Putting data into action
In 2016, we worked with an organization called Hispanic Outreach of Goodhue County on a project to enhance the visibility of Latinos in Red Wing, Minnesota. In building our proposal, we used data from Minnesota Compass and the American Community Survey (ACS) to describe both Latino residents across the state, as well as locally in Red Wing. This project resulted in the creation of the CreAndo Lab, an initiative to build personal confidence and an entrepreneurial mindset among members of the Latino community. It also led to the development of a training program for Latino resident involvement in local development projects. Today, the CreAndo Lab and the training program are still operating, and new small and large projects continue to emerge with the involvement of Latinos and local authorities.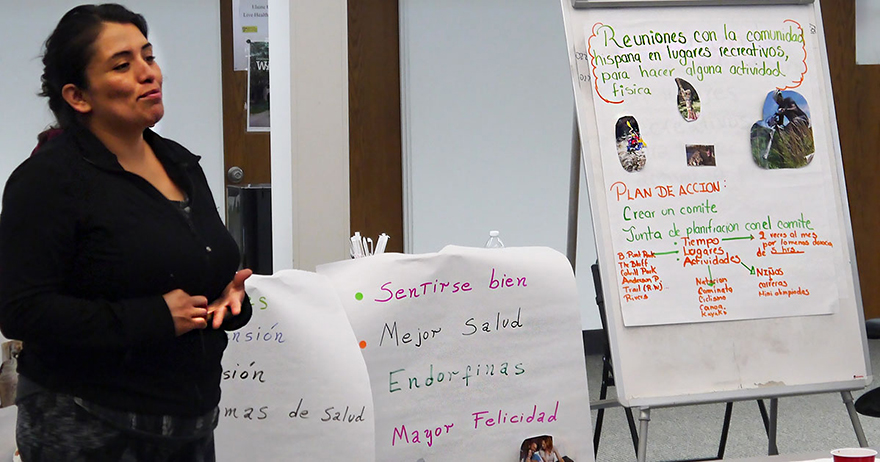 This project was successful because we were able to use information from Minnesota Compass to establish a statewide perspective of Minnesota's Latino population, in aggregate. But now we can examine disaggregated data with Compass's cultural community profiles. We can begin to understand the diversity within the term "Latino."
More than Mexican
With Minnesota Compass's new cultural community profiles, we know that people of Mexican origin make up the largest group of Latinos in Minnesota. In fact, we know that Mexican Minnesotans make up the third largest cultural group in the state, with 213,800 residents (White [non-Hispanic] and African Americans make up the first and second largest groups, respectively). We also know that while 6 out of every 10 Mexican Minnesotans live in the 7-county Twin Cities metro area, the remaining 4 out of 10 live across the state, in both smaller cities and in rural areas. In fact, we can tell that approximately 81,000 Minnesotans of Mexican origin live in greater Minnesota.
The new cultural community profiles also tell us that there are large populations of other Latino cultural groups in Minnesota, including, in order of size, Puerto Rican, Salvadoran, Guatemalan, Ecuadorian, Cuban, and Colombian Minnesotans. These profiles tell us that the percentage of Latino cultural groups who are foreign born varies quite a bit: 30% for Mexicans, 54% for Salvadorans, 57% for Guatemalans, 55% for Ecuadorians, and 47% for Colombians, indicating different waves of new immigration. 
The profiles also reveal that there are large socioeconomic disparities. Most noticeable is educational attainment among different cultural groups. For example, among Mexicans, 37% have less than a high school diploma, compared to 6% of Colombians, and 9% of Puerto Ricans (Figure 1). On the other side of the spectrum, 31% of Puerto Ricans have some level of college education, while 47% of Colombians have earned a bachelor's degree or higher.

The profiles reveal disparities in income levels, too, ranging from a median household income of $33,000 among Salvadorians to $69,100 among Colombians (Figure 2).

All of this information and more must be considered carefully when identifying needs, designing strategies, and implementing programs that target different segments of the broader Latino community. While sociodemographic data are available to researchers and others on different platforms, the data and tools from Minnesota Compass—particularly the new cultural community profiles—make our work easier.
For instance, having data on each cultural community aided us in conducting census outreach. Hispanic populations have historically been undercounted in past census efforts, and it was extremely important that they were fully and accurately counted during the 2020 decennial census. Full and accurate counts ensure that their voices are heard, their communities receive the resources they need, and the data about them are accurate. We tailored our census outreach strategies based on information in the cultural community profiles. For example, we knew from the data that Colombians in Minnesota have, on average, high educational attainment and income. Statistically, this makes them more likely to respond to the census, so we knew that we didn't need to focus our efforts as strongly on that group. On the other hand, there were large numbers of people who descended from Mexico, Puerto Rico, El Salvador, and Guatemala who we knew were much less likely to respond to the census. Therefore, we focused our census outreach toward these communities.
Understanding our state's diversity matters. It helps us better target our programs, it helps us enrich our understanding of who lives here, and it helps us avoid thinking that Minnesota's Latino community is equivalent to "Mexican." The truth is Minnesota's Latino population is made up of many different communities, and we can begin to appreciate this diversity when we see the data to prove it.