Minnesota's school-age youth make up a large portion of our state's residents – almost 1 million people. Put another way – we'd need a fleet of nearly 13,000 school buses to get all those kids off to school at once. Here are a few things to know about school-age kids across the state.
Growing diversity
Twenty-nine percent of Minnesota's youth are people of color, up from 18 percent in 2000. The majority of Minnesota's youth of color live in the Twin Cities 7-county region, but there are concentrated pockets of children of color in greater Minnesota as well. Counties with the highest proportions of American Indian youth, for example, are in the Northwest region. We see the heaviest concentrations of Hispanic youth in the Southwest region of the state. Counties with high proportions of Asian and black youth are largely in the Twin Cities region.
Academic proficiency is steady, but graduation is up
Similar to past years, new data released in July show that around three in five kids are proficient in standards that we track on Compass: 3rd grade reading, 5th grade science, and 8th grade math. Upon the release of the most recent results, Minnesota Department of Education Commissioner and Compass Advisor Brenda Cassellius noted being disappointed in "the slow pace of progress."
But there has been sustained improvement in Minnesota's on-time graduation rate, which ticked up for the sixth year in a row in 2015 to 82 percent of students who graduate within four years. We have seen particularly large gains in on-time graduation by students of color, with graduation rates improving for students of all races and ethnicities every year since 2011.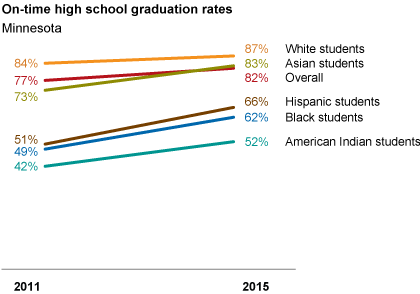 Lower-income students are less likely to engage in enrichment activities
Children and youth do not stop learning when they leave the classroom, and how Minnesota students spend time out of school is important to social, emotional, cognitive, and physical development.
Nearly two-thirds of Minnesota students are highly engaged in enrichment activities, participating in activities like sports, clubs, and lessons at least three days a week. However, when we dig a bit deeper we see that only about 48 percent of lower-income youth regularly participated in enrichment activities, compared to 67 percent of higher-income youth. Gaps also emerge between white youth and youth of color.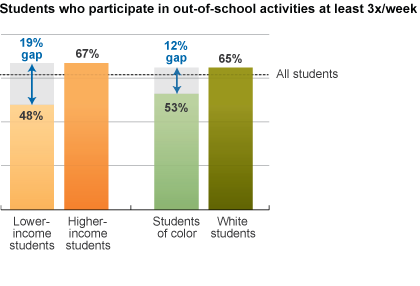 The most common activities for boys across grade levels are club, community, and school sports. Lessons are most common for 5th-grade girls, later replaced by religious activities and sports for girls in middle and high school grades. One-third of high school-age youth volunteer.
Just over half of students feel connected to an adult in the community
Seventy-seven percent of Minnesota's 5th graders feel that adults in their community care about them, including teachers, coaches, mentors, and youth workers. But there is a notable drop in middle and high school grades.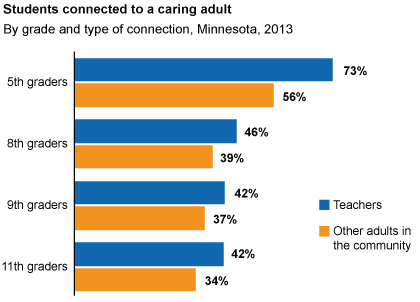 This is a place where individual Minnesotans are making – and can continue to make – a positive impact. Tutoring, teaching, and mentoring youth are common activities among Minnesota's volunteers. Initiatives featured in our Ideas At Work sections – including in our Children & Youth and Education areas – include a number of organizations that seek to bring youth together with caring adult volunteers.
Want to know more?
Our Children & Youth topic area has been revamped with new navigation, updated groups-at-a-glance profiles, and links to cross-topic measures. We also have a brand new profile for children of two or more races, a growing segment of the child population.
Related
Insights articles
Addressing 3 social determinents of education
Ignite learning for all kids through afterschool activities
In our library
KIDS COUNT Data Book Collection
Destination, Youth Success: St. Paul's 2014-2015 Afterschool Data Report